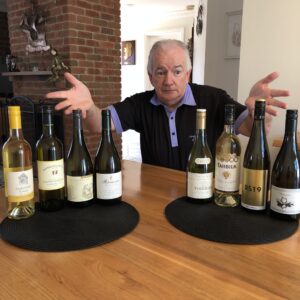 If the number one priority for Wineries is producing quality wine, the number two priority should be to sell that wine.
"On-line" Shops and Cellar-doors are getting more and more attention and while the quality of Winery websites has improved dramatically over the past few years there is still room for improvement.
To assist wineries in making their websites even better we have identified a number of issues that, if addressed, will make visiting a winery's website a better experience which should help wineries sell more wine.
The comments below refer to either a wine consumer trying to navigate a winery site or the experience of a wine consumer being directed by a third party to a wine on a winery website.
MAKING IT DIFFICULT FOR CUSTOMERS TO IDENTIFY OR FIND YOUR WINES
The starting point for clear communication is understanding where consumers and 3rd party referrers derive basic information on wine. A key source of information is the Wine Label.
Winery Search facilities, be they Search boxes or drop-down Tabs, should enable searches by information contained on the label or self-evident information. Key information includes
White Style        Red; White; Rosé; Sparkling; Fortified; Dessert or Sweet  – Self-evident info.
Variety                 Pinot Noir; Chardonnay etc          – Label Info
GI (Region)         Yarra Valley; Tasmania                   – Label Info
 Does your winery website enable searches by these three criteria?
 While the three search criteria above are self-explanatory problem areas for many customers searching for wines are identifying a Brand Name and coming to terms with Internal Winery Category names.
Don't Use Different Clones for your Brand Names
A "Brand name" is an individual, and hopefully unique, name that is allocated to a single wine or a group of wines by the winery.
The main issue with Brand Names is a lack of consistency.
If a winery chooses the brand name Pirate for a wine then that brand name is Pirate.
Too often a brand name will be referred to with variations on the name.
The name Pirate may appear on the label but on the website, it may be referred to as The Pirate, Estate Pirate and/or The Estate Pirate.
A lack of consistency in the case above has created up to four brand names Pirate; The Pirate; Estate Pirate and The Estate Pirate.
This may seem unimportant but it can be a real source of customer confusion and can cause problems for 3rd Party Referrer Search engines.
Another potential issue with brand names is the ASSUMED Brand Name.
For example, if a wine label has a certain colour this, in itself, does not establish a brand name. If the label is grey and the winery wants the brand name to be Grey Label then write the name Grey Label on the wine label.
If You Offer Searches by Category or Group then the Category or Group Name Must Appear on the Wine Label.
An example of a winery category or group occurs when a winery calls a collection of wines by a name such as Legends; Icons; Favourites; Classics; Heritage etc.
While the winery may be familiar with these category names, unless these names appear on the wine labels, they may be meaningless to customers.
EXCLUDING SOME OF YOUR WINES FROM YOUR WEBSITE
Do not avoid providing information to visitors to your site on wines you produce but do not sell.
Example – ABC Winery produces a range of wines for a major retailer. These wines can only be purchased at the branches of that retailer but bear the name of the winery.
It is frustrating for a wine consumer to search for a wine on the website of the winery that produces that wine only to find that no information is provided on that wine.
The winery should list these wines and explain: –
Thank you for visiting our site. ABC Winery produces the XYZ Range for Retailer Q. These wines can only be purchased from that retailer.
Follow this link to purchase these wines.  www.retailerq/winesetc.com.au
NOT INVESTING IN THE SPEED OF YOUR WEBSITE
Website users are impatient people and will not wait for slow websites to respond. On a frequent basis you must have your website tested, by an independent party, for speed and user friendliness. If your website is slow then pay to speed it up.
A further way to improve the experience of visitors to your website is removing "mezzanine pages." If a visitor clicks SHOP, they want to browse wines and hopefully buy wines.
Too many websites have an interim step showing lovely pictures of the winery etc with another button BUY WINES. A potentially frustrating extra click for your customers especially returning customers.
Finally, how often do you test the friendliness of your website. Give some tasks to friends and ask them to give you a frank experience of their visit to your website. Tasks could include
Try buying 6 bottles of X Wine.
Find out about Wine Z. Who is the winemaker, what varieties are in this wine, is it vegan friendly, are the tasting notes easy to find and helpful?
PROVIDING INACCURATE OR ILLEGIBLE INFORMATION
There are a lot of sins covered under this heading.
When buying a wine the key information required by a customer is:-
The wine name (covered under branding see Mistake 1), the grape variety/varieties in the wine; the vintage, the price and the bottle size.
Varieties  Some winery websites do not show/disclose the varieties or use totally misleading names for varieties.
Rosé; Sherry; Port; Tawny; Fortified; and Red Blend are NOT varieties.
It is extremely disappointing when wineries do not provide this basic information in an accurate format. There is also a knock-on effect, some of the most respected wine reviewers also use these inaccurate and lazy terms when describing wine varieties.
Vintage   Unbelievable as it is, some winery websites do not show the vintage of the wine they are selling. As quality can vary by vintage, this is a very disappointing omission. Retailers are also guilty of either not showing vintage or showing one vintage on their website but, when you click and collect, or choose to receive a delivery, the vintage provided is different from the vintage ordered. Yes, the retailers may have disclaimers and excuses but wineries have no excuse.
If a customer is expecting the 2018 Gold medal winning wine and receives the unrated 2020 vintage instead, the customer is entitled to be disappointed, even angry.
Price  Some wineries display the price of the wine in such a small font that it is almost impossible to find never mind read.
Some wineries do not show the price until the wine is added to "your basket." This is tantamount to saying "only when you commit to buying the wine will we disclose the price."
A cellar-door issue for many wineries occurs when the customer visiting the winery checks the wine cost at their local retailer and discovers that the cellar-door price is higher than the retailer's price.
Bottle Size  While most bottle sizes are declared at most wineries there are some sites where unusual sizes are provided e.g. 700ml but this size is not declared by the winery. Also, sometimes with dessert wines or fortified wines it is not clear if the bottle size is 375ml; 500ml; 750ml or something else.
EXCLUDING HELPFUL SELLING POINTS
A major challenge for all wineries is to get wine consumers to your site. Once you have these potential customers make sure you use "selling points" to encourage the consumer to buy.
Tasting notes and technical details can be good selling tools and can encourage wine buyers to revisit your site.
Retain tasting notes including technical notes for past vintages.
Too many wineries only show the tasting notes and technical notes for the vintage available at the winery.
A library of tasting and technical notes should be maintained as easily downloadable pdfs (portable document format).
Information on past vintages can be important to customers because a wine may have been cellared for a number of years or a wine purchased from a retailer may be older than the vintage on sale at the winery.
If your wines have benefits, explain what these benefits are.
If your wine is Vegan friendly say so. Is it Organic or Bio-dynamic?
Who better to advise wine lovers on cellaring potential than the winemaker?
This can be important information for serious wine buyers, those who buy wine by the case and store it. Provide this information and use actual numbers e.g. Peak drinking 5 – 15 years after vintage date rather than "will benefit from some cellaring" or "will reward the patient."
An important attribute of a wine in terms of food and wine matching is the Residual sugar level.
This is particularly important for varietals such as Riesling e.g. is the wine bone-dry, dry, off-dry or sweet?
pH gets more mention on winery websites than residual sugar. Consider adding residual sugar level details to your labels and to your tasting/technical notes.
Do not suggest bizarre food matches for your wine as such matches could be off-putting rather than encouraging.
"Matches well with Mongolian horse-stew served with Tibetan water chestnuts." I think I'll buy a different wine or try a different winery.
The example above may be a "slight" exaggeration but there are certainly some bizarre food matches recommended by wineries.
IGNORING THE POWER OF WINE REVIEWERS & WINE SHOWS
If you know your wines are good then let the most influential commentators tell the world how good they are on your behalf. A good score from a respected reviewer or wine show will help get attention for your wine and help sell your wine.
If one reviewer is particularly unfriendly towards your wines then don't use that reviewer in the future but don't lose out on respected 3rd party endorsements from other sources because one reviewer doesn't like your wines.
It is also important that if scores are shown for a wine that the wine and the score are aligned. If the 2018 vintage received 95pts from a Reviewer then do not assign the 95pts badge to a different vintage e.g. the 2019 vintage. This recommendation can also be directed at a number of wine retailers.
Also, if a business has a number of reviewers working for it name the individual reviewer that scored your wines as this can be helpful to consumers.
AVOID 404 ERRORS – OOOPS THAT PAGE CAN'T BE FOUND!
This error usually occurs when a third party referrer directs a wine consumer to a particular wine on a winery website.
The main reason it occurs is because a vintage has been sold out and a new vintage is available.
Example – A wine consumer is being directed by a 3rd Party referrer (e.g. AWESOMME) to ABC Winery's 2019 Riesling.
The winery has sold out of the 2019 vintage but the 2020 vintage is available.
Instead of redirecting the wine consumer to an error message, 404 ERROR – OOOPS THAT PAGE CAN'T BE FOUND, wineries should redirect the consumer seeking the 2019 vintage to the new 2020 vintage.
This provides the consumer with a positive result rather than a disappointing negative result.
Providing the vintage is clearly identified the consumer will be in a position to take a "buy or not buy" decision rather than having to navigate through the winery website to achieve the same outcome.
Wineries may also choose to add a pop-up message that states the 2019 is sold out, we have taken you to the 2020 vintage.
DON'T CREATE HURDLES FOR 3rd PARTIES TRYING TO SEND CUSTOMERS TO YOU
Some key issues are:- The URL (uniform resource locator) or specific website address for a wine should take the user to that wine. Some wineries deliberately place barriers or staging points in the way and send customers to a group site or a generic homepage.
Example   A 3rd Party referrer website has a Go to Shop button that should take a consumer to the specific wine they are interested in buying at the winery website.
While such a link works for the majority of wineries, some wineries divert the link to their homesite or worst still to the homesite of the Corporate owner of a number of Wineries.
Instead of going directly to a specific wine, the customer has to navigate through a series of corporate pages to find the wine.
Two real examples of this type of hurdle are:-
*A link to a Pinot Noir wine was diverted to Olive Oil.
*A link to a specific wine was taken to the Group home page. The customer then has to select the preferred winery from a list of wineries and then navigate until they could find the specific wine.
Bottle Images – Make quality bottle images easily downloadable. Some wineries use interference techniques to prevent bottle images being downloaded by 3rd parties. The reason a 3rd party wants the bottle image is to help present your wine to customers. Don't be unhelpful to people trying to assist you to sell your wines.
While the marketing mistakes above may not apply to all wineries, there are a substantial number of winery websites that can improve their websites by addressing the marketing mistakes that do apply to their individual sites.
Michael Tierney
(Michael Tierney is a director and co-founder of AWESOMME, iS Winescale & iS Ratings)